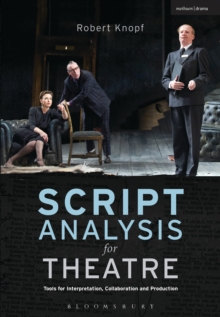 Script analysis for theatre : tools for interpretation, collaboration and production
1408184303 / 9781408184301
Script Analysis for Theatre: Tools for Interpretation, Collaboration and Production provides theatre students and emerging theatre artists with the tools, skills and a shared language to analyze play scripts, communicate about them, and collaborate with others on stage productions. Based largely on concepts derived from Stanislavski's system of acting and method acting, the book focuses on action - what characters do to each other in specific circumstances, times, and places - as the engine of every play.
From this foundation, readers will learn to distinguish the big picture of a script, dissect and 'score' smaller units and moment-to-moment action, and create individualized blueprints from which to collaborate on shaping the action in production from their perspectives as actors, directors, and designers.
Script Analysis for Theatre offers a practical approach to script analysis for theatre production and is grounded in case studies of a range of the most studied plays, including Sophocles' Oedipus the King, Shakespeare's Twelfth Night, Henrik Ibsen's Hedda Gabler, Georg Buchner's Woyzeck, Oscar Wilde's The Importance of Being Earnest, Tennessee Williams's A Streetcar Named Desire, and Paula Vogel's How I Learned to Drive, among others.
Readers will develop the real-life skills professional theatre artists use to design, rehearse, and produce plays.
BIC:
AN Theatre studies, DSG Literary studies: plays & playwrights