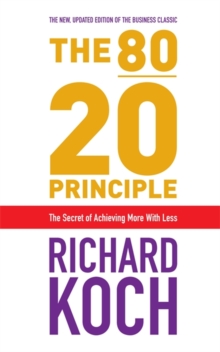 The 80/20 principle : the secret of achieving more with less (10th anniversary ed)
1857883993 / 9781857883992
Usually dispatched within 2 weeks
In the ten years since its first publication, The 80/20 Principle has become a business classic and a global bestseller.
In this new edition Richard Koch outlines a fresh understanding of the true power of the principle. And it is powerful: the 80/20 principle - the counter-intuitive yet prevalent fact that 80% of results flow from 20% of causes - is the one true principle of highly effective people and organisations and has stood the test of time.
Many thousands of people throughout the world have found the principle useful at work, in their careers and in their personal lives.
Koch outlines how with the 80/20 Principle we can achieve much more with much less effort, time and resources simply by concentrating on the all-important 20% thus controlling events instead of being controlled by them, and with several times the results.
BIC:
* Variable discounts between 0% and 15% are applied to items where BBfS cannot determine exact discounts from suppliers.
Other Formats