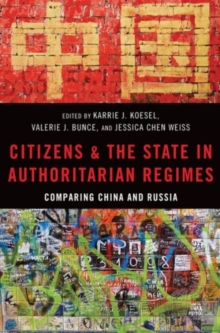 Citizens and the state in authoritarian regimes : comparing China and Russia
0190093498 / 9780190093495
The revival of authoritarianism is one of the most important forces reshaping world politics today.
However, not all authoritarians are the same. To examine both resurgence and variation in authoritarian rule, Karrie J.
Koesel, Valerie J. Bunce, and Jessica Chen Weiss gather a leading cast of scholars to compare the most powerful autocracies in global politics today: Russia and China.
The essays in Citizens and the State in Authoritarian Regimes focus onthree issues that currently animate debates about these two countries and, more generally, authoritarian political systems.
First, how do authoritarian regimes differ from one another, and how do these differences affect regime-society relations?
Second, what do citizens think about the authoritarian governmentsthat rule them, and what do they want from their governments?
Third, what strategies do authoritarian leaders use to keep citizens and public officials in line and how successful are those strategies in sustaining both the regime and the leader's hold on power?
Integrating the most important findings from a now-immense body of research into a coherent comparative analysis of Russia and China, this book will be essential for anyone studying the foundations of contemporaryauthoritarianism.
BIC:
1DVUA Russia, 1FPC China, JPB Comparative politics, JPHX Political structures: totalitarianism & dictatorship, JPSD Diplomacy, JPVH2 Freedom of information & freedom of speech