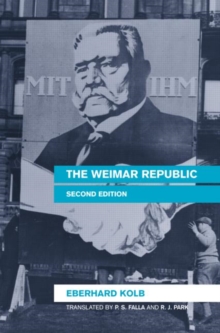 The Weimar Republic (2nd ed)
0415344425 / 9780415344425
Stock expected by 19/11/2019
Previous ed. of this translation: London: Unwin Hyman, 1988.
In the first part of the book, Professor Kolb provides a clear historical narrative of the political, social, economic and cultural developments of the Weimar Republic, setting it within the international context of the inter-war period.
In the second part he surveys and analyses scholarly research in the field which sheds light on the problems and controversies of the period in home and foreign affairs.
This text, therefore, provides an excellent introduction to the history of the Weimar Republic and a guide to the state of research for more advanced students. The book contains a detailed chronology and an extensive and up-to-date bibilography, divided by subject, which includes recent English-language studies of the period and translation of German works.
BIC: