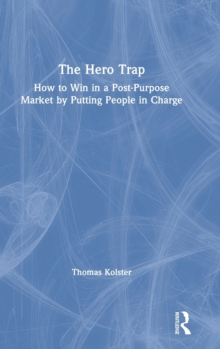 The Hero Trap : How to Win in a Post-Purpose Market by Putting People in Charge
0367242702 / 9780367242701
156 x 234 mm 282 pages, 240 Illustrations, black and white
A single tweet from an irate customer can topple a CEO, much like a new business formed by a 20-something can disrupt business empires.
Market economists have told us that we're driven only by money and status, but the inherent human truth that cuts across age, culture and gender uncovers a stronger force: we wish to be in charge of our own lives and our own happiness.
Through extensive growth and affinity research, Thomas Kolster uncovers a simple answer that is key to driving marketing growth in the 21st century: if you put people in control of the marketing mix, from products to promotion, they can grow and in turn grow your organisation.
This book explains the meteoric rise of a company like AirBnB, how a 20-something Swede, Maria de la Croix, built a global coffee empire like Wheelys in just a few years, and how a group of friends hanging out in a bar in Melbourne created one of the largest global non-profits fighting for men's health, Movember - and how you can empower people to do the same.
Kolster calls this feature 'Empowerbility': the ability of an organisation to empower its customers (or stakeholders) to leverage their means and capabilities as a resource in the marketing mix, from product to promotion. Empowerbility bridges the gap between aspiration and action and unlocks the door to Marketing's Holy Grail: moving people from awareness to purchase.
Today's power no longer rests in the hands of the privileged few, but in the talented many.
It is time for you to unleash that power, in numbers.
BIC:
KJS Sales & marketing, TQ Environmental science, engineering & technology