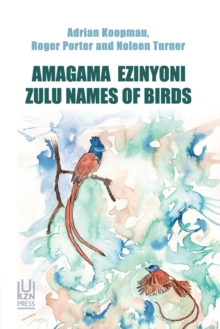 Amagama Ezinyoni : Zulu Names of Birds
1869144503 / 9781869144500
150 x 230 mm, 500 grams 304 pages
Postgraduate, Research & Scholarly Learn More
Undergraduate
Amagama Izinyoni: Zulu Names of Birds lists all the bird species found in KwaZulu-Natal and surrounds, gives the proposed standardised Zulu name for each species, and explains the underlying meaning and how the name came into being.
All earlier names for these birds, even if no longer in current use, have been recorded here, making this a historical repository of Zulu bird names as well.
This book is the result of the six-year Zulu Bird Name Project.
Between 2013 and 2018, annual workshops, organised and facilitated by the three authors, brought together a total of eighteen mother-tongue Zulu-speaking bird experts to research the names of bird species present in the Zulu-speaking area of South Africa.
At the start of the project, only approximately 40 per cent of the bird species of this area had species-specific Zulu names; by the end of the project all 550 species had unique names.
The comprehensive introduction explains the methodology used in the Zulu bird name workshops, providing a template for linguists and ornithologists who might wish to do similar bird-naming exercises in the other African languages of southern Africa.
The introduction also provides some linguistic and onomastic insights into bird naming generally and Zulu bird names in particular.
BIC:
CFF Historical & comparative linguistics, JFC Cultural studies, PSVW6 Birds (ornithology)