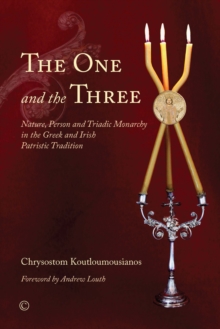 The one and the three : nature, person and Triadic monarchy in the Greek and Irish patristic tradition
022717514X / 9780227175149
The One and the Three explores parallels between Byzantine and early Irish monastic traditions, finding in both a markedly trinitarian theology founded on God's contemplation and ascetic experience.
Chrysostom Koutloumousianos refutes modern theological theses that affect ecclesiology, and contrasts current schools of theological thought with patristic theology and anthropology, in order to approach the meaning and reality of unity and otherness within the Triadic Monad and the cosmos.
He explores such topics as the connection between nature and person, the esoteric dimension of the Self, the relation and dialectic of impersonal institutions and personal charisma, and perennial monastic virtues as ways to unity in diversity.
BIC: