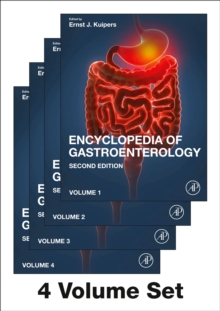 Encyclopedia of gastroenterology (2nd edition)
0128124601 / 9780128124604
Usually dispatched within 4 weeks
28 cm 3420 pages : illustrations (black and white, and colour)
Encyclopedia of Gastroenterology, Second Edition provides a comprehensive and concise reference on all aspects of gastroenterology and hepatology, including the organs in the gastrointestinal system, their functions in health and disease, and strategies or procedures to resolve or prevent problems and disease.
This concise, up-to-date information includes comprehensive sections on the impact of nutrition, gastrointestinal microbiota, lifestyle, commonly used drugs, and surgical procedures on health and disease.
Since the first edition, attention to the roles of nutrition and gastrointestinal microorganisms (microbiota, formerly Microbiota) in health and disease has skyrocketed.
In addition, an entirely new section on obesity and diabetes is included.
BIC: