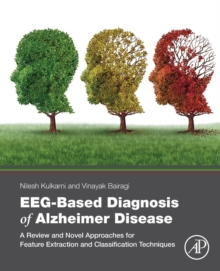 EEG-based diagnosis of Alzheimer disease : a review and novel approaches for feature extraction and classification techniques
012815392X / 9780128153925
Usually dispatched within 4 weeks
EEG-Based Diagnosis of Alzheimer Disease: A Review and Novel Approaches for Feature Extraction and Classification Techniques provides a practical and easy-to-use guide for researchers in EEG signal processing techniques, Alzheimer's disease, and dementia diagnostics.
The book examines different features of EEG signals used to properly diagnose Alzheimer's Disease early, presenting new and innovative results in the extraction and classification of Alzheimer's Disease using EEG signals.
This book brings together the use of different EEG features, such as linear and nonlinear features, which play a significant role in diagnosing Alzheimer's Disease.
BIC: