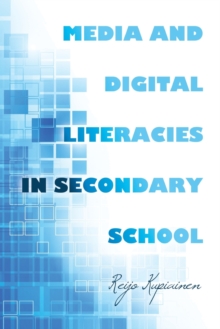 Media and Digital Literacies in Secondary School (New ed)
1433118408 / 9781433118401
Stock expected by 11/04/2020
150 x 225 mm, 270 grams 160 pages
Media and Digital Literacies in Secondary School examines young people's media practices and media literacies in school spaces where these practices mix in the school environment and learning in different ways.
Young people bring their own media and literacy practices to the school as an important part of an identity, taste, and social life.
These practices are changing school's media ecology, making school's physical boundaries more permeable, creating new, unofficial spaces in them, and transgressing the boundaries of private and public.
This book highlights youth's media production practices, from photography and video making to fan fiction writing and online role-playing, which have different relations to the school, and shows how these practices make a dialog between informal and formal learning and that teachers have an important part in collaborative relationships with pupils when teachers encourage and motivate pupils and help them to understand media phenomena.
The volume will be of particular interest to scholars and graduate students in the fields of education, new literacies, media and communication studies, media and art education, and youth studies.
BIC:
GTC Communication studies, JNLC Secondary schools, RGL Regional geography