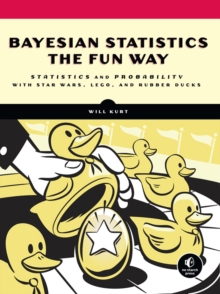 Bayesian statistics the fun way : understanding statistics and probability with Star Wars, LEGO, and rubber ducks
1593279566 / 9781593279561
24 cm xxii, 234 pages : illustrations (black and white)
Fun guide to learning Bayesian statistics and probability through unusual and illustrative examples.

Many professionals use statistics and probabilities in their everyday work but struggle to make much sense of what they're doing. Bayesian Statistics the Fun Way gets you understanding the theory behind data analysis without making you slog through a load of dry concepts first - with no programming experience necessary.

Fun and unusual examples are used to illustrate otherwise dry statistical concepts. You'll learn about probability with LEGO, statistics through Star Wars, distributions with bomb fuses, estimation through precipitation, and come away with some strong mathematical reasoning skills.

You'll start with learning about priors and calculating simple probabilities and move on to measuring spreads and distributions, modelling data, simulating monte carlo scenarios, handling irrational data; you'll even get a crash course in R basics.

This is a super approachable book for people who need to do data science and probability work in their lives, but never got a good grip on the underlying theory.
BIC:
PBTB Bayesian inference, UM Computer programming / software development