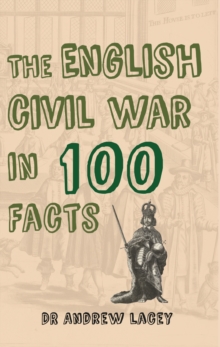 The English Civil War in 100 facts
1445649950 / 9781445649955
The English Civil War pitted Parliament against the Crown following a breakdown in their relationship, ultimately caused by a struggle over power, religion and control.
The Civil War split the country and resulted in the execution of Charles I and the exile of his son, and the English monarchy was replaced first by the Commonwealth of England and then the Protectorate.
Oliver Cromwell dominated the politics of the new rule and still divides opinion today, with some seeing him as a brutal dictator and others seeing him as a hero of liberty. The English Civil War in 100 Facts examines the twenty years of intermittent warfare, covering the first, second and third wars, from the initial conflict with Charles I to the fight of Charles II's supporters with the Rump Parliament.
Dr Andrew Lacey guides us through some of the key figures and their stories as well as some of the key battles and politics in this period that drastically altered the structure of English rule.
BIC:
1DBKE England, 3JD c 1600 to c 1700, HBJD1 British & Irish history, HBLH Early modern history: c 1450/1500 to c 1700, HBWE English Civil War