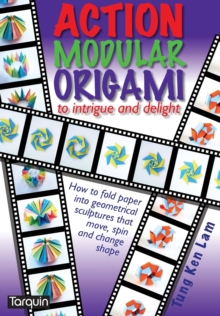 Action Modular Origami : to intrigue and delight
1911093940 / 9781911093947
170 x 244 mm 96 pages, 300 Illustrations; Illustrations, color
Fold paper into geometrical sculptures that move, spin and change shape.
This book by a long-time creator will appeal to enthusiasts of mathematics and puzzles as well as fans of modular origami.
Over thirty elegant projects are absorbing to make and rewarding to assemble - without glue or scissors.
When finished, not only do the projects please the eye and stimulate the imagination, they have a bonus feature: they move, spin or change shape in unique and fascinating ways. All in one place, fully diagrammed - clear step-by-step instructions with thoughts behind the folds.
Many have been improved during years of experimentation and experiences of making and teaching. "beautiful and elegant designs...immaculate diagrams." British Origami Society"WXYZ model is so iconic...the most elegant model in all of modular origami." trivialknot"his modular creations are fine examples of original and economical folding" David Petty, author of Origami A-B-C and Origami 1-2-3
BIC: