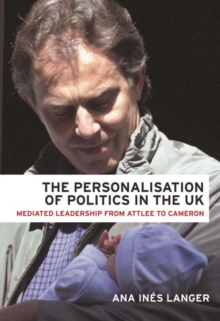 The personalisation of politics in the UK : mediated leadership from Attlee to Cameron
1526122847 / 9781526122841
24 cm 224 pages : illustrations (black and white)
Reprint. Originally published: 2011.
What does it mean to say that modern politics is personalised?
What is distinctive about contemporary forms of personalisation and are these changes within British politics enduring?
This book rethinks the concept of personalisation and develops an analytical framework for its study, challenging current theorisations within political science and media studies.
Moreover, Langer presents rigorous new empirical data regarding the development of personalisation in the United Kingdom, from 1945 to 2009. A must-read for anyone researching the phenomenon of personalisation internationally, this book's conceptual depth and empirical range make it a benchmark for future studies. -- .
BIC:
1DBK United Kingdom, Great Britain, JP Politics & government