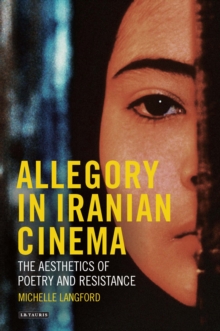 Allegory in Iranian Cinema : The Aesthetics of Poetry and Resistance (3 Illustrated edition)
1780762992 / 9781780762999
156 x 234 mm 272 pages, 26 integrated bw
Since the 1979 revolution, Iranian filmmakers have been creating vibrant, aesthetically rich cinema - whilst working under strict state censorship laws.
How have they achieved this? As Michelle Langford reveals, many have found indirect, allegorical ways of expressing forbidden topics and issues in their films, drawing on a long history of allegorical expression in Persian poetry and the arts.
Allegory in Iranian Cinema explores the allegorical aesthetics of Iranian cinema, explaining how it has emerged from deep cultural traditions and how it functions as a strategy for ideological resistance.
She uses a range of cinematic, philosophical and cultural concepts - developed by thinkers such as Walter Benjamin, Gilles Deleuze, Henri Bergson, Vivian Sobchack and Laura Marks - to provide a theoretical framework for detailed analyses of films by renowned directors such as Abbas Kiarostami, Mohsen Makhmalbaf, Majid Majidi, Rakhshan Bani-Etemad, Hana Makhmalbaf and Jafar Panahi.
BIC: