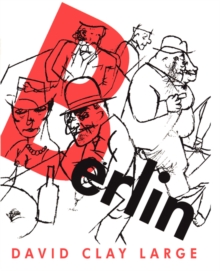 046502632X / 9780465026326
Usually dispatched within 2 weeks
24 cm xxvii, 706 p. : ill.
Reprint. Originally published: 2000.
A narrative history of one of the 20th century's most loved-and unloved-cities, "Berlin" is as vibrant, and colourful as the great German metropolis itself.
In the political history of the past century, no city has played a more prominent - though often disastrous - role than Berlin.
At the same time, Berlin has also been a dynamic centre of artistic and intellectual innovation.
If Paris was the "Capital of the Nineteenth Century," Berlin was to become the signature city for the next hundred years.
Once a symbol of modernity, in the 1930s it became associated with injustice and the abuse of power.
After 1945, it became the iconic city of the cold war.
Since the fall of the Wall, Berlin has again come to represent humanity's aspirations for a new beginning, tempered by caution deriving from the traumas of the recent past.
David Clay Large's history of Berlin is framed by the two German unifications of 1871 and 1990. Between these two events several themes run like a thread through the city's history: a persistent inferiority complex; a distrust among many ordinary Germans, and the national leadership of the "unloved city's" electric atmosphere, fast tempo, and tradition of unruliness; its status as a magnet for immigrants, artists, intellectuals and the young; and the opening up of social, economic and ethnic divisions as sharp as the one created by the Wall.
BIC:
1DFG Germany, 3JH c 1800 to c 1900, 3JJ 20th century, HBJD European history, HBLL Modern history to 20th century: c 1700 to c 1900, HBLW 20th century history: c 1900 to c 2000, WQH Local history