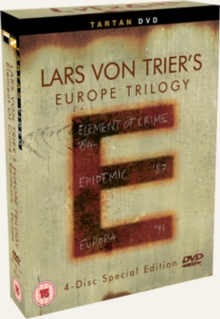 Lars Von Trier: E Trilogy
Danish, Swedish, Norwegian, Finnish, English, German, French, Dutch
(15) Suitable for 15 years and over.
Triple-bill of early films from the controversial and experimental Danish director, all exploring the traumas of the European past and the difficulties it will face in the future. 'Element of Crime' (1984) is von Trier's highly stylised debut feature.
Returning from exile in Egypt, police detective Leopold Fisher (Michael Elphick) is asked to investigate a series of murders in which the victims have all been young female ticket sellers.
Fisher's approach is to try to adopt the perspective of the killer, and thus to predict where and when the next murder will take place, but when he meets the beautiful Kim (Me Me Lei), the line separating investigation and crime begins to blur.
In 'Epidemic' (1987), von Trier plays a director collaborating with a writer on a film script about an epidemic spreading throughout the world.
As they become intensely focused on their work, they fail to realise that a real epidemic is taking place around them. 'Europa' (1991) is set in the devastated aftermath of the Second World War.
Leo (Jean-Marc Barr), a young German-American, travels to Germany to help rebuild the country.
Working as a train conductor, he witnesses the cruel treatment of German civilians by Allied soldiers and the horrendous destruction brought about by the war (his train stops at towns that no longer exist).
Eventually he becomes involved with the railroad boss's daughter, herself an ex-Nazi partisan.
Commentary: Lars von Trier, Tomas Gislason (editor), Peter Schepelern (critic), Niels Vorsel, Jean-Marc Barr, Udo Kier
Other Documentary: 'Lars von Trier', 'Anecdotes', five other documentaries on von Trier