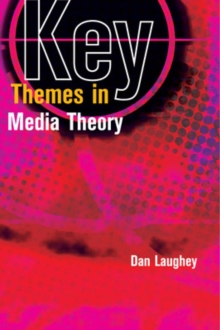 Key themes in media theory
033521813X / 9780335218134
"Key Themes in Media Theory" is a critical introduction to key theories of media for undergraduate students.
The book focuses on a broad range of theoretical themes that have informed our contemporary understanding of media production and consumption.
Unlike cultural theory, social theory, literary theory, or indeed film theory, the field of media theory remains relatively vague.
Some approaches to media theory are associated with the medium theory tradition of Marshall McLuhan.
Other approaches locate media theory in the tradition of cultural studies and Stuart Hall's work in particular.
Still other approaches equate media theory with mass communication theory and research on media effects.
There is also a distinctive political economy tradition of media theory.
This book is unique in bringing together all these and other theories of the media into a single, comprehensive text.
The need to clarify, compare and contrast different schools of media thought into a single text is particularly pressing in an age when the media is such a pervasive part of everyday life, and when the study of media has never been so significant.We might think that we know about the media - but do we really understand it?
Features of the book include ten succinct chapters that discuss theories ranging from media effects to consumerism; from feminisms to political economy.
Each chapter discusses theory and applies it to plenty of media examples and case studies so as to guide our understanding.
The book also includes an accessible glossary of key terms as well as useful images and diagrams.
It will prove essential reading for undergraduates in media studies, journalism, communication studies, public relations and cultural studies.
BIC: