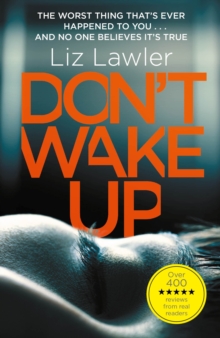 Don't wake up
1785770578 / 9781785770579
'Mind-blowing. It kept me guessing from the beginning to the end' Reader review * * * * *The pitch-black bestselling psychological thriller for fans of Friend Request by Laura Marshall and I Am Watching You by Teresa Driscoll. Alex Taylor wakes up tied to an operating table. The man who stands over her isn't a doctor. The choice he forces her to make is utterly unspeakable. But when Alex re-awakens, she's unharmed - and no one believes her horrifying story.
Ostracised by her colleagues, her family and her partner, she begins to wonder if she really is losing her mind. And then she meets the next victim. So compulsive you can't stop reading. So chilling you won't stop talking about it. Don't Wake Up is a dark, gripping psychological thriller with a horrifying premise and a stinging twist . . . Readers are completely gripped by Don't Wake Up:'A gripping read right up to the end . . . fast-paced, well written and exciting' * * * * * 'Full of twists . . . one of the best books I've read in a while' * * * * *'A perfect balance of suspense, drama, crime and mystery.
A superbly executed book I could not stop reading!' * * * * *'Couldn't put it down' * * * * *'An outstanding debut novel' * * * * *'One of my favourite reads this year' * * * * *'Gripping, fascinating, slightly terrifying, and moved at a quick pace.
Overall a great psychological thriller' * * * * *'This is a fantastic novel that will hook you right in and leave you suspecting every single character' * * * * *
BIC: