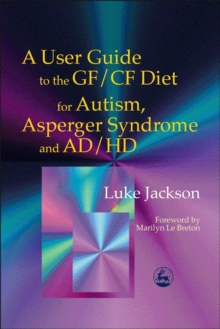 A user guide to the GF/CF diet for autism, Asperger syndrome and AD/HD
184310055X / 9781843100553
As the evidence increases that gluten free and casein free diets can really improve symptoms in certain developmental disorders, Jaqui Jackson decided to try it out with her sons Luke, Joe and Ben.
Joe has AD/HD, Ben is autistic and Luke has Asperger syndrome.
In this book, Luke Jackson writes about his own experiences of being on this diet, "to let other people with AS know they are never too old or too "mild" to embark on this diet.
It really can change peoples lives." Luke offers practical advice on topics such as what to expect when beginnng the diet, tips for how to alleviate any initial discomfort, through to advice on how to rearrange the kitchen to aviod cross-contamination.
The book includes a section onhow Luke's mother copes with the challenges of cooking for such a large family, along with a selection of Luke's favourite recipes.
The book also includes a list of useful addresses and Websites of suppliers coupled with suggestions as to how to find more detailed references
BIC:
VFJB Coping with illness & specific conditions, VFMD Diets & dieting