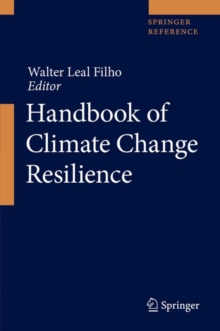 Handbook of Climate Change Resilience (1st ed. 2020)
3319933353 / 9783319933351
Stock expected by 17/07/2020
155 x 235 mm, 6091 grams 2834 pages, 460 Tables, color; 461 Illustrations, color; 102 Illustrations, black and white; LII, 28
Climate resilience, or the capacity of socio-ecological systems to adapt and upkeep their functions when facing physical-chemical stress, is a key feature of ecosystems and communities.
As the risks and impacts of climate change become more intense and more visible, there is a need to foster a broader understanding of both the impacts of these disruptions to food, water, and energy supplies and to increase resilience at the national and local level. The Handbook of Climate Change Resilience comprises a diverse body of knowledge, united in the objective of building climate resilience in both the industralised and the developing world.
This unique publication will assist scientists, decision-makers and community members to take action to make countries, regions and cities more resilient.
BIC:
KNB Energy industries & utilities, RNFY Energy resources, RNPG Climate change, RNU Sustainability, TVB Agricultural science