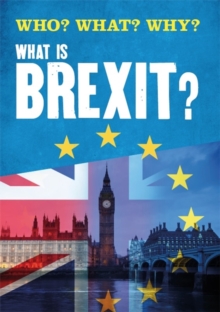 1526306719 / 9781526306715
Reprint. Originally published: 2017.
A clear, factual and accessible guide to Brexit and what it might mean for the future of Britain and the European Union. On 23 June 2016, Britain voted in a referendum to leave the European Union.
Over the next few years this decision will make a difference to everyone living in Britain.
The arguments about whether to stay in or leave the EU were very heated, and while many people celebrated the result of the referendum, others were left upset and fearful for the future.
Aimed at tweens and teens, this book looks at the key topics and arguments surrounding Brexit and considers the facts, implications and possible outcomes of Britain's withdrawl from the EU in a balanced and unbiased way.
BIC:
1DBK United Kingdom, Great Britain, 1QFE EU (European Union), YQG Educational: Geography, YXF Personal & social issues: family issues (Children's / Teenage)