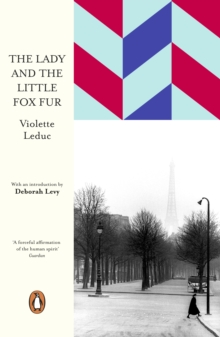 The lady and the little fox fur
0241357454 / 9780241357453
Usually dispatched within 4 weeks
'The great French feminist writer we need to remember' Guardian 'Violette Leduc's novels are works of genius and also a bit peculiar' Deborah Levy, from the introduction An old woman lives alone in a tiny attic flat in Paris, counting out coffee beans every morning beneath the roar of the overhead metro.
Starving, she spends her days walking around the city, each step a bid for recognition of her own existence.
She rides crowded metro carriages to feel the warmth of other bodies, and watches the hot batter of pancakes drip from the hands of street-sellers.
One morning she awakes with an urgent need to taste an orange; but when she rummages in the bins she finds instead a discarded fox fur scarf.
The little fox fur becomes the key to her salvation, the friend who changes her lonely existence into a playful world of her own invention.
The Lady and the Little Fox Fur is a stunning portrait of Paris, of the invisibility we all feel in a big city, and ultimately of the hope and triumph of a woman who reclaims her place in the world. 'A moving, beautiful and authentic classic. We must be grateful to the Penguin European Writers series, a precious venture in these dark times, for bringing it back to us.' John Banville, Booker prize-winning author of The Sea'This book is as richly humane as anything else you're likely to read' Independent
BIC:
FA Modern & contemporary fiction (post c 1945), FYT Fiction in translation