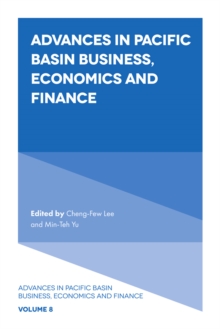 Advances in Pacific basin business, economics and finance
1838673644 / 9781838673642
Advances in Pacific Basin Business, Economics, and Finance is an annual publication designed to focus on interdisciplinary research in finance, economics, accounting and management among Pacific Rim countries.
All articles published have been reviewed and recommended by at least two members of the editorial board.
Topics of interest include, but are not limited to, the following: Policies and Regulations on financial markets and financial institutions;Options, futures and other derivatives markets; Corporate finance and investment decisions;Fixed-Income securities and portfolio management;Insurance and risk management;Accounting, auditing and taxation;Marketing, management, and business strategies;Interdisciplinary issues on supply chain, finance, and marketing;Monetary and foreign exchange policy;Income, employment, and other economic policies among the Pacific Rim countries
BIC:
KCL International economics, KFCF Financial accounting, KFFD Public finance
* Variable discounts between 0% and 15% are applied to items where BBfS cannot determine exact discounts from suppliers.
Other Formats