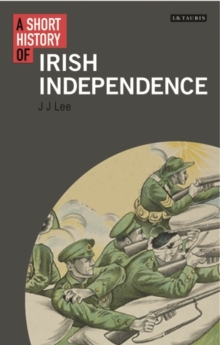 A short history of Irish independence
1784531006 / 9781784531003
The history of modern Ireland has been one of both struggle and hope.
The struggle, first to establish a nation independent of Britain and then to define what it represents, is one that continues to animate politics and society at home as well as abroad among the Irish Diaspora (especially in the USA).
Though it is a struggle that still bears the traces of sectarianism, this is leavened by the ongoing hopes-both north and south of the border-of a lasting settlement in Ulster.
Charting those large, iconic moments of the Irish narrative, award-winning historian J J Lee sets such momentous events as the founding of the Fenians (1858), C S Parnell's campaign for Home Rule (from 1877), the Easter Rising (1916), occupation of the Dublin Custom House (1921), the death of Michael Collins (1922) and the rise of Eamon de Valera against the surging tides of stronger currents: whether the Great Famine, the War of Independence or the bitter Civil War between pro-and anti-treaty factions of the IRA.
By revealing the underlying forces beneath Ireland's turbulent history, Lee here offers a masterful portrait of the Irish story."
BIC:
1DBR Ireland, 3JH c 1800 to c 1900, 3JJ 20th century, HBJD1 British & Irish history, HBLL Modern history to 20th century: c 1700 to c 1900, HBLW 20th century history: c 1900 to c 2000, HBTR National liberation & independence, post-colonialism