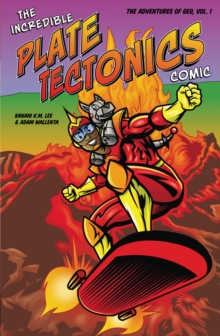 The incredible plate tectonics comic
1593275498 / 9781593275495
Usually dispatched within 4 weeks
40 pages : chiefly illustrations
An Amazing, Earth-Shattering Adventure! The Incredible Plate Tectonics Comic is a wild adventure in earth science.
Follow Geo and his robot dog, Rocky, as they travel back in time to Pangea, surf a tsunami, and escape an erupting volcano - all in time for Geo's first-period science test!
The journey starts 200 million years ago and takes you to modern-day Hawai'i, the ocean floor, and deep inside the Earth.
You'll learn: How scientists developed the theory of plate tectonics Why the Earth shakes What's in the center of the Earth How volcanoes can form islands The Incredible Plate Tectonics Comic will teach you about geology in a fun, lively, and visual way. Ages 8+ Recommended for grade 6 and up
BIC:
YFW Comic strip fiction / graphic novels (Children's / Teenage), YNN Natural history (Children's/Teenage)