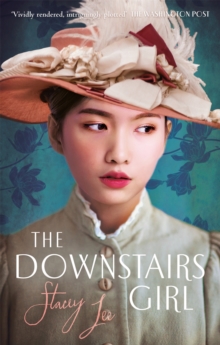 The downstairs girl
0349423601 / 9780349423609
'A triumph of storytelling. Everyone needs to read this book' Stephanie Garber, New York Times bestselling author of Caraval'This vividly rendered historic novel will keep readers riveted as witty, observant Jo deals with the dangers of questioning power' The Washington Post***Jo Kuan is leading a double life.
By day, she works as a quiet lady's maid, but by night, she's the voice behind the most radical advice column in 1890s Atlanta. Jo is used to living life on the margins - invisible except for the occasional looks of disdain - but she won't let it hold her back.
While her priority is making sure that she and her father, Old Gin, remain safe in their hideaway beneath a print shop, she still has ambition. And strong opinions of her own that she begins to share in a newspaper advice column under the pseudonym 'Miss Sweetie'.
Suddenly, all of Atlanta is talking about her ideas, although little do they know that the witty advice comes from a penniless Chinese girl. As curiosity about Miss Sweetie mounts, Jo's secret identity may not stay secret for much longer. And as she learns more of the hard truths about her identity and her country, she must find the courage to decide between being herself or staying invisible . . . ***Praise for The Downstairs Girl'[A] gorgeously researched, butter-rich feminist historical novel from one of the best in YA' Melissa Albert, bestselling author of The Hazel Wood'I couldn't put it down.
It was so much fun. Stacey writes great historical fiction centring people of colour, and I got to learn cool history while also rooting for a badass' Camryn Garrett, author of Full Disclosure'[A] thrilling historical novel' Booklist'A detailed and vibrant picture of life in the past' The New York Times'Clever, funny, and poignant,The Downstairs Girl is Stacey Lee at her best' Evelyn Skye, New York Times bestselling author of The Crown's Game'Prepare to fall headlong in love with The Downstairs Girl.
I certainly did!' Robin LaFevers, New York Times bestselling author of the His Fair Assassin trilogy'A jewel of a story.
By shining a light on the lives of those whom history usually ignores, Stacey Lee gives us a marvellous gift: An entirely new and riveting look at our past' Candace Fleming, award-winning author of The Family Romanov'Immersive, important, and thoroughly entertaining,The Downstairs Girl sparkles with all of Stacey Lee's signature humour, charm, warmth, and wisdom' Kelly Loy Gilbert, Morris Award Finalist for Conviction
BIC: