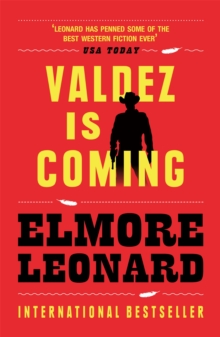 Valdez is coming
0753819120 / 9780753819128
Reprint. Originally published: London: Robert Hale, 1969.
Published alongside Elmore Leonard's other classic Westerns HOMBRE and LAST STAND AT SABER RIVER VALDEZ IS COMING was made into a film starring Burt Lancaster and is Elmore Leonard's favourite Western. Terrific, eye-catching packaging for these books 'For sharp plots and spot-on dialogue, he's in a different league' Ian Rankin. 'Elmore Leonard may be the last hope for the written word' New York Observer. 'Elmore Leonard is up there at the top of the list' TLS. 'Writers don't come cooler than Elmore Leonard, with Hollywood players from Tarantino to Malkovich beating a path to his door' The Time
No writer chronicles the battles of misfits, underdogs and renegades like Elmore Leonard ...VALDEZ IS COMING is a stunning stale of morality and justice, as a simple, honest man is transformed into a killer - and begins a long journey of revenge against those who scarred his soul for ever.
Elmore Leonard's Western novels stand as some of the most vivid writing of his career.
With all of his trademark sharp dialogue and set against a beautifully evoked landscape, this is a classic work taht captures the wild and glorious spirit of the American West.
BIC: