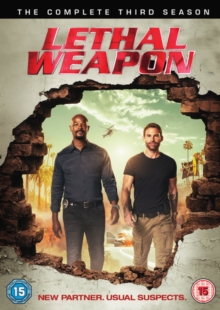 Lethal Weapon: The Complete Third Season
English, Danish, Finnish, French, Norwegian, Swedish
(15) Suitable for 15 years and over.
All 15 episodes from the third season of the US crime drama based on the action film series.
In this season, veteran LAPD Detective Roger Murtaugh (Damon Wayans), who returns to his job after a heart attack, is mourning the loss of his partner when he is paired with war veteran and former CIA operative Wesley Cole (Seann William Scott), who has moved to LA and taken a job with the police department to be closer to his daughter.
The episodes are: 'In the Same Boat', 'Need to Know', 'A Whole Lotto Trouble', 'Leo Getz Justice', 'Get the Picture', 'Panama', 'Bali', 'What the Puck', 'Bad Santas', 'There Will Be Bud', 'Dial M for Murtaugh', 'The Roger and Me', 'Coyote Ugly', 'A Game of Chicken' and 'The Spy Who Loved Me'.