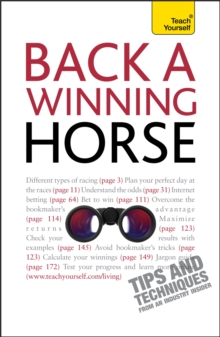 Pick a winning horse (New ed)
1444102915 / 9781444102918
Stock expected by 15/12/2021
Previous ed.: published as How to win at horse racing. 2001.
Is this the right book for me?Do you want to make smart choices and win at the track?Whether you are a novice better or an experienced punter, it has all the tips and advice to help you spot a winner and enjoy this popular national pastime.
This new edition has been been brought right up-to-date with interactive features.
It explains not only such basics as the form and the nature of the races, but will also explain in full where to bet, how to bet, and how to do so successfully.
It offers full and unique coverage of the latest phenomena, such as internet betting, online betting exchanges and spread betting.
It also gives you vital tips in addition to providing practical information on how to avoid credit card fraud and how to make a successful selection. Back a Winning Horse includes:Chapter 1: Horse racingOrigins of horse racingThoroughbred horsesTypes of racingGrading of racingHandicapsConditional racesGambling on horse racingA day at the racesOwning a racehorseRacing around the worldChapter 2: Racecourse bettingOn-course bookmakersTote bettingPari-mutuelBookmakingUnderstanding the oddsFactors affecting pricesPlacing a tote betChapter 3: Betting shopsTypes of priceDisadvantages of using a betting shopWriting a betBookmakers' rulesTypes of betChapter 4: Remote bettingInternet bettingTypes of internet bettingTypes of betHow bets are matchedOrdering oddsHow to betSpread bettingPlaying safeTelephone bettingChapter 5: Making your selectionFactors you can assessFactors you cannot assessGathering informationSystemsEffect of the draw at British and Irish racecourses Chapter 6: Betting tipsBe aware of rulesAppreciate your chances of winninHow bookmakers make a profitKeep records of your gamblingSet a budgetStaying in controlTake account of all costsBe selectiveTake your timeMaximize returnsBe realisticHow bookmakers try to make you spend more moneyGroundType of raceBetting on handicap racesNumber of runnersBacking favouritesTake the best priceMaking the best betBetting each wayBets to avoidPlacing large betsBig winnersSteamersCollecting winningsBetting exchangesHedgingDutchingSyndicate bettingChapter 7: Checking results and calculating winningsChecking resultsDisputes with bookmakersCalculating winningsUsing a ready reckonerLearn effortlessly with a new easy-to-read page design and interactive features: Not got much time?One, five and ten-minute introductions to key principles to get you started. Author insightsLots of instant help with common problems and quick tips for success, based on the author's many years of experience. Test yourselfTests in the book and online to keep track of your progress. Extend your knowledgeExtra online articles to give you a richer understanding of the subject. Five things to rememberQuick refreshers to help you remember the key facts. Try thisInnovative exercises illustrate what you've learnt and how to use it.
BIC: