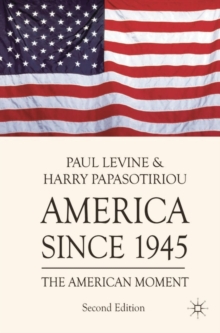 America since 1945 : the American moment (2nd ed)
0230251455 / 9780230251458
Usually dispatched within 2 weeks
24 cm x, 309 p. : ill., map, port
The period from 1945 to the present day may not constitute an American century, but it can be seen as the American Moment: the time when, for good or ill, the United States became the predominant political, military, economic and cultural power in the world.
This revised and updated new edition introduces the historic and tumultuous developments in American politics, foreign policy, society and culture during this period.
It includes coverage of key recent events, such as the:- 2008 election of Barack Obama - global recession - protracted war in Iraq and Afghanistan - rise of the internet - transformation of American Society and Culture - challenges of new immigration and multi-culturalism - changing global status of the US in the new millennium. Examining the American Moment in a global context, the authors emphasise the interaction between politics, society and culture.
America Since 1945 encourages an awareness of how central currents in art, literature, film, theatre, intellectual history and media have developed alongside an understanding of political, economic and social change.
BIC:
1KBB USA, 3JJP c 1945 to c 2000 (Post-war period), HBJK History of the Americas, HBLW3 Postwar 20th century history, from c 1945 to c 2000