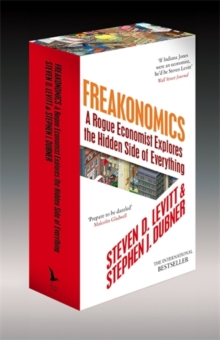 Freakonomics : a rogue economist explores the hidden side of everything (Rev. ed)
1846145643 / 9781846145643
Reprint. This ed. originally published: London: Penguin, 2006. In slip case.
This is a slipcased hardback edition of Steven D. Levitt and Stephen J. Dubner's bestselling phenomenon, with the original first Penguin edition artwork.
What do estate agents and the Ku Klux Klan have in common?
Why do drug dealers live with their mothers? How can your name affect how well you do in life? The answer: Freakonomics. It's at the heart of everything we do and the things that affect us daily, from sex to crime, parenting to politics, fat to cheating, fear to traffic jams. And it's all about using information about the world around us to get to the heart of what's really happening under the surface of everyday life.
Now updated with the authors' "New York Times" columns and blog entries, this cult bestseller will show you how, by unravelling your life's secret codes, you can discover a totally new way of seeing the world.
BIC:
Title Unavailable: Out of Print
Other Formats