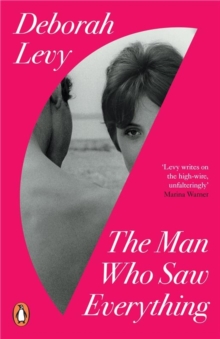 The man who saw everything
0241977606 / 9780241977606
Reprint. Originally published: UK: Hamish Hamilton, 2019.
LONGLISTED FOR THE BOOKER PRIZE 2019SHORTLISTED FOR THE GOLDSMITHS PRIZE 2019'An ice-cold skewering of patriarchy, humanity and the darkness of the 20th century Europe' The Times'It's like this, Saul Adler.''No, it's like this, Jennifer Moreau.'In 1988, Saul Adler is hit by a car on the Abbey Road.
Apparently fine, he gets up and poses for a photograph taken by his girlfriend, Jennifer Moreau.
He carries this photo with him to East Berlin: a fragment of the present, an anchor to the West.
But in the GDR he finds himself troubled by time - stalked by the spectres of history, slipping in and out of a future that does not yet exist.
Until, in 2016, Saul attempts to cross the Abbey Road again... 'A time-bending, location-hopping tale of love, truth and the power of seeing.
Thoroughly gripping' Sunday Telegraph'Writing so beautiful it stops the reader on the page' Independent'Levy splices time in artfully believable, mesmerizing strokes' Lambda Literary'Skewering totalitarianism - from the state, to the family, to the strictures of the male gaze - Levy explodes conventional narrative to explore the individual's place and culpability within history' Guardian'An utterly beguiling fever dream' Daily Telegraph
BIC:
3JJPN c 1980 to c 1990, FA Modern & contemporary fiction (post c 1945)