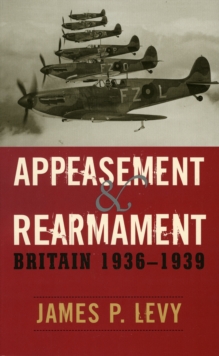 Appeasement and Rearmament : Britain, 1936-1939
0742545385 / 9780742545380
Usually dispatched within 4 weeks
137 x 215 mm, 254 grams 208 pages
Standing against conventional wisdom, historian James Levy reevaluates Britain's twin policies of appeasement and rearmament in the late 1930s.
By carefully examining the political and economic environment of the times, Levy argues that Neville Chamberlain crafted an active, logical and morally defensible foreign policy designed to avoid and deter a potentially devastating war.
Levy shows that through Chamberlain's experience as Chancellor of the Exchequer, he knew that Britain had not yet fully recovered from the first World War and the longer an international confrontation could be avoided, the better Britain's chances of weathering the storm.
In the end, Hitler could be neither appeased nor deterred, and recognizing this, Britain and France went into war better armed and better prepared to fight.
BIC:
1DBK United Kingdom, Great Britain, 3JJG c 1918 to c 1939 (Inter-war period), HBJD1 British & Irish history, HBLW 20th century history: c 1900 to c 2000