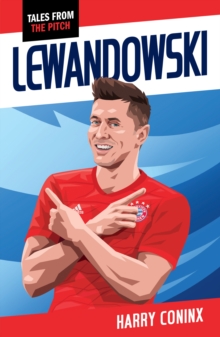 1785919768 / 9781785919763
Robert Lewandowski is one of the best strikers of his generation - but his journey to the top wasn';t always easy.
Finding himself without a club at the age of 17, Robert had no choice but to claw his way upthrough the ranks of Polish football.
It led him to the top of one of the world's toughest leagues, the German Bundesliga.
Join Robert on his unwavering mission to become one of the greatest players of all time. This fictionalised biography is one of the new titles in Ransom's Tales from the Pitch series.
Each book focuses on one up-and-coming football superstar, often players who are still to reach the summit of their career.
The players are from all walks of life and have faced failure, injury and rejection, making these moving and inspirational stories.
The books are brimming with football banter that will have the knowing fans smiling. And each players story is littered with football tricks and tips, so readers can learn the arts of the glorious game. Tales of the Pitch are easy to read and very fast-paced reads.
At only 120 pages long, printed on cream paper with a dyslexia-friendly font, these are ideal books for reluctant and dyslexic readers.
BIC:
1DFG Germany, 1DVP Poland, YNWA Football / soccer (Children's / Teenage)