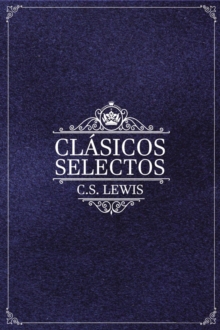 Clasicos selectos de C. S. Lewis : Antologia de 8 de los libros de C. S. Lewis
0829737472 / 9780829737479
Usually dispatched within 4 weeks
Disponible por primera vez en una edicion de lujo en rustica, los Clasicos selectos de C.
S. Lewis incluyen ocho obras espirituales emblematicas de una de las figuras literarias mas celebres de nuestro tiempo.
Reunido en un volumen en rustica, este magnifico compendio incluye:Mero cristianismoCartas del diablo a su sobrinoEl gran divorcioEl problema del dolorLos milagrosUna pena en observacionLa abolicion del hombreLos cuatro amoresLos Clasicos selectos de C.
S. Lewis es perfecto para: Los fans de C. S. LewisObsequios: es un gran regalo para amigos, familiares, pastores, estudiantes de teologia, aficionados a la filosofia y mas. Coleccionistas de libros clasicosThe C. S. Lewis Signature ClassicsAvailable for the first time in one deluxe paperback edition, The C.
S. Lewis Signature Classics includes eight signature spiritual works of one of the most celebrated literary figures of our time.
Brought together in one paperback volume, this magnificent compendium includes:Mere ChristianityThe Screwtape LettersThe Great DivorceThe Problem of PainMiraclesA Grief ObservedAbolition of ManThe Four LovesThe C.
S. Lewis Signature Classics is perfect for:Fans of C.S.
LewisGift giving - makes a great gift for friends, family, pastors, theology students, philosophy fans and more. Classic book collectors
BIC:
AGR Religious subjects depicted in art, HRC Christianity, HRCS Christian spirituality & religious experience, HRCV Christian life & practice, HRLK Spirituality & religious experience