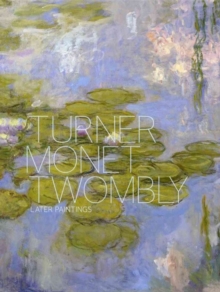 Turner, Monet, Twombly : later paintings
1849760128 / 9781849760126
Usually dispatched within 2 weeks
29 cm 271 p. : ill. (chiefly col.), ports. (some col.)
Published on the occasion of the exhibition Turner, Monet, Twombly - Later Paintings, Moderna Museet, Stockholm 8th Oct. 2011-15th Jan. 2012, Staatsgalerie Stuttgart, 11th Feb.-28th May 2012 and Tate Liverpool 22nd June-28th Oct. 2012.
In 1966 an exhibition at New York's Museum of Modern Art grabbed the headlines.
The artist was an unusual one to find in a modern art gallery: JMW Turner.
While that exhibition's presentation of Turner as an influence on Abstract Expressionism is contentious, it succeeded both in presenting his work in a contemporary context and in introducing him to a new audience.
In a similar spirit, Turner Monet Twombly argues the modernity of both Turner and Monet, while revealing the centrality of classical themes in the work of one of the twentieth century's greatest artists, the American abstract painter Cy Twombly (1928-2011).
Monet's interest in Turner is well documented; Twombly's passion for both artists less so.
Focusing on each artists' later paintings, marked in all three cases by strong colour and an intensity and confidence borne of age, author Jeremy Lewison highlights interests and themes they share, despite the differences in time and geography that separated them.
These include Romanticism, the sublime, memory and mourning; and in Turner and Twombly's cases, an interest in myth, classicism and the landscape of Italy. Extensively and beautifully illustrated, this major survey sheds new light on the achievements of three of the greatest artists of the past 200 years, never presented together before.
Lewison's insightful text also make wider points about inspiration and the nature of so-called 'late style': a combination of physical changes to the artist's body, a preoccupation with posterity and a growing sense of the diminishment of time.
BIC:
ACV History of art & design styles: c 1800 to c 1900, ACX History of art & design styles: from c 1900 -, AFC Painting & paintings
* Variable discounts between 0% and 15% are applied to items where BBfS cannot determine exact discounts from suppliers.