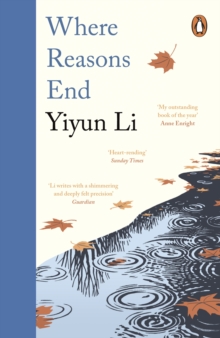 Where reasons end : a novel
0241985188 / 9780241985182
Reprint. Originally published: New York: Random House, 2019.
'Profoundly moving. An astonishing book, a true work of art' Max Porter, author of Grief is the Thing with Feathers From the critically acclaimed author of The Vagrants, a devastating and utterly original novel on grief and motherhood'Days: the easiest possession.
The days he had refused would come, one at a time. They would wait, every daybreak, with their boundless patience and indifference, seeing if they could turn me into an ally or an enemy to myself.'A woman's teenage son takes his own life.
It is incomprehensible. The woman is a writer, and so she attempts to comprehend her grief in the space she knows best: on the page, as an imagined conversation with the child she has lost.
He is as sharp and funny and serious in death as he was in life itself, and he will speak back to her, unable to offer explanation or solace, but not yet, not quite, gone. Where Reasons End is an extraordinary portrait of parenthood, in all its painful contradictions of joy, humour and sorrow, and of what it is to lose a child. 'A masterpiece. This book haunts me more than any other novel I've read in recent years' Garth Greenwell, author of What Belongs to You'Heart-wrenching, fearless, and unlike anything you've ever read' Esquire'I sit here shaken and, I think, changed by this work' Katherine Boo, author of Behind the Beautiful Forevers'A devastating read, but also a tender one, filled with love, complexity, and a desire for understanding' Nylon'The most intelligent, insightful, heart-wrenching book of our time' Sean Andrew Greer, Pulitzer Prize-winning author of Less'Captures the affections and complexity of parenthood in a way that has never been portrayed before' The Millions'Ethereal and electric, radiating unthinkable pain and profound love' Buzzfeed
BIC:
FA Modern & contemporary fiction (post c 1945), VFJX Coping with death & bereavement