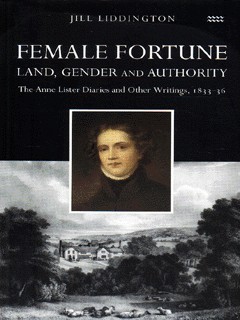 Female fortune : land, gender and authority
1854890891 / 9781854890894
Usually dispatched within 2 weeks
general Learn More
postgraduate
research & professional
undergraduate
The author won the Fawcett Bok Prize in 1990 for "The Long Road to Greenham".
Anne Lister (1791-1840), heiress, scholar, traveler, and estate owner, is known to us through her diaries -- an unusually vivid record of an extraordinary life.
She inherited Shibden Hall, Yorkshire, seduced a neighbouring heiress, consolidated their estates (effectively a dynastic lesbian marriage), and developed the coal deposits there, managing them with flair and energy.
In her account of this remarkable story, Female Fortune, Jill Liddington analyzes the role of gender in Lister's invasion of what were, at the time, almost exclusively male domains.
The book is supported by generous selections from the diaries themselves.
The extensive appraisal of Anne Lister's life and the themes drawn from the diaries make Female Fortune required reading for anyone engaged in current feminist analysis.
It is an important text for students of women's studies, gender studies. social and cultural history, and lesbian and gay studies.
BIC:
BGH Biography: historical, political & military, HBTB Social & cultural history, JFSJ Gender studies, gender groups, KFFR Property & real estate