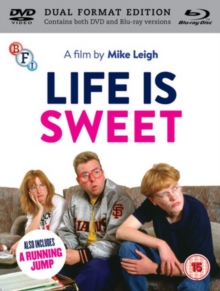 Blu-ray (Blu-ray / with DVD - Double Play)
(15) Suitable for 15 years and over.
Mike Leigh directs this British comedy set in a lower-middle class household in a London suburb.
Parents Wendy (Alison Steadman) and Andy (Jim Broadbent) and their twin daughters Natalie (Claire Skinner) and Nicola (Jane Horrocks) are a modern family at odds with itself.
Whilst Natalie quietly focuses on progressing into the plumbing industry, bulimic Nicola grows increasingly sullen and misanthropic.
Interviews: Jane Horrocks
Commentary: With Mike Leigh
Other Documentary: 'A Running Jump' (2012) short film, 'The Guardian Lecture: Mike Leigh in Conversation With Derek Malcolm'