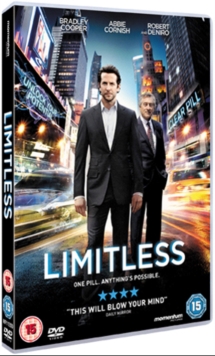 (15) Suitable for 15 years and over.
Techno thriller, based on Alan Glynn's 2003 novel 'The Dark Fields', starring Bradley Cooper and Robert De Niro.
When failed writer and loser in love Eddie Morra (Cooper), through a series of convoluted events, discovers the new designer drug MDT-48, his life and outlook are immediately changed.
This latest of pharmaceutical concoctions goes straight to work on Eddie's brain power, making him the sharpest thinker on the planet.
He has instant recall of everything he's ever learned and uses it to propel himself into the world of high finance, where he attracts the interest of high-powered businessman Carl Van Loon (De Niro).
Unfortunately MDT-48 comes with some particularly nasty side-effects that soon make themselves felt and as Eddie's ascent stars to falter, so does his mind.
He soon discovers, however, that the paranoia he's feeling is utterly justified and there are dangerous people on the loose who really are out to get him.