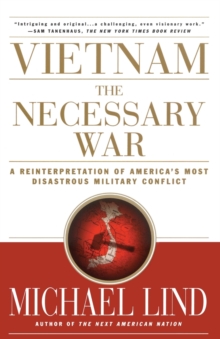 Vietnam : the necessary war
0684870274 / 9780684870274
Usually dispatched within 4 weeks
Reprint. Originally published: New York: Free, 1999.
One of America's leading intellectuals presents a startling thesis sure to provoke controversy: that the Vietnam War was the right war at the right time, with the wrong military strategy.
The Vietnam War still divides Americans. Some claim that Indochina was of no strategic value.
Others argue that timid civilian leaders denied the U.S military permission to win.
In this paradigm-shifting book, Michael Lind explodes both of these myths and puts the Vietnam War back in the context of Cold War power politics and American domestic politics.
The Cold War, Lind argues, was the third world war, and the proxy wars in Korea, Indochina, and Afghanistan were among its major campaigns.
However, the cost of the U.S military's misguided tactics in Vietnam undermined American public support for the Cold War on all fronts.
The result was the forfeiture of Indochina, a resurgence of American isolationism, and a worldwide wave of Soviet bloc expansion checked only by the Second Cold War of the 1980's.
Challenging the stale orthodoxies of the antiwar left and prowar right, VIETNAM: THE NECESSARY WAR offers a major reinterpretation of America's most disastrous foreign war.
BIC:
1KBB USA, HBJF Asian history, HBJK History of the Americas, HBW Military history, HBWS2 Vietnam War, JP Politics & government, JWLF Battles & campaigns