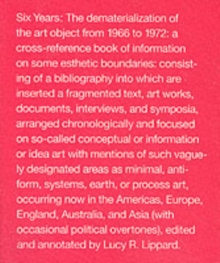 Six Years : The Dematerialization of the Art Object from 1966 to 1972
0520210131 / 9780520210134
178 x 216 mm, 454 grams 296 pages, 104
In Six Years Lucy R. Lippard documents the chaotic network of ideas that has been labeled conceptual art.
The book is arranged as an annotated chronology into which is woven a rich collection of original documents--including texts by and taped discussions among and with the artists involved and by Lippard, who has also provided a new preface for this edition.
The result is a book with the character of a lively contemporary forum that offers an invaluable record of the thinking of the artists--a historical survey and essential reference book for the period.
BIC:
3JJPK c 1960 to c 1970, 3JJPL c 1970 to c 1980, ABA Theory of art, ACXJ4 Art & design styles: Minimalism, ACXJ5 Art & design styles: Conceptual art