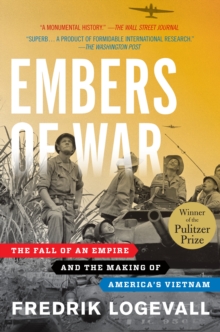 Embers of war : the fall of an empire and the making of America's Vietnam
0375756477 / 9780375756474
Stock expected by 05/04/2020
24 cm xxii, 837 pages : illustrations (black and white), maps (black and white)
Reprint. Originally published: 2012.
This monumental history asks the simple question: How did we end up in a war in Vietnam?
To answer that question Fredrik Logevall traces the forty-year path that led us from World War I to the first American casualties in 1959.
Using fresh archives in Washington, Hanoi, and Paris, Cornell University Professor of History Fredrik Logevall shows how senior French and United States officials proved unwilling to confront reality in Vietnam, despite having excellent intelligence information at their disposal, and despite possessing their own private doubts about the prospects. And, to an astonishing degree, Embers of War shows how the problems Americans faced in Vietnam had been faced before them by the French.
In Bernard Fall's words, Americans were "dreaming different dreams than the French but walking in the same footsteps."FREDRIK LOGEVALL is John S.
Knight Professor of International Studies and Professor of History at Cornell University, where he serves as director of the Mario Einaudi Center for International Studies. "A balanced, deeply researched history of how, as French colonial rule faltered, a succession of American leaders moved step by step down a road toward full-blown war."--Pulitzer Prize citation. ""Embers of War", a remarkable new history of the first Vietnamese war by Fredrik Logevall"The Economist. "Fredrik Logevall's excellent book"Choosing War "(1999) chronicled the American escalation of the Vietnam War in the early 1960s.
With "Embers of "War, he has written an even more impressive book about the French conflict in Vietnam and the beginning of the American one. . . . It is the most comprehensive history of that time. Logevall, a professor of history at Cornell University, has drawn from many years of previous scholarship as well as his own. And he has produced a powerful portrait of the terrible and futile French war from which Americans learned little as they moved toward their own engagement in Vietnam." The New York Times Book Review-Editor's Choice.
BIC:
1FMV Vietnam, 1KBB USA, 3JJ 20th century, HBJF Asian history, HBJK History of the Americas, HBLW3 Postwar 20th century history, from c 1945 to c 2000, HBWS2 Vietnam War