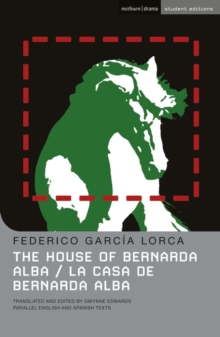 The house of Bernardo Alba
0713686774 / 9780713686777
Reprint. This translation originally published: London: Methuen Drama, 1988.
Lorca is recoginised as one of the truly great playwrights of the twentieth century A bilingual edition with parallel English and Spanish texts, it is perfect for anyone studying Spanish literature as well as students of drama. The existing edition currently sells over 1000 copies a year A set text for SQA (Scotland) Higher Drama This Student Edition features a synopsis of the play, an extensive commentary, bibliography, notes on words and phrases, and questions for further study Lorca's work is studied on drama , Spanish and literature courses
Bernarda Alba is a widow, and her five daughters are incarcerated in mourning along with her.
One by one they make a bid for freedom, with tragic consequences.
Lorca's tale depicts the repression of women within Catholic Spain in the years before the war.
The House of Bernarda Alba is Lorca's last and possibly finest play, completed shortly before he was murdered by Nationalist sympathisers at the outbreak of the Spanish Civil War.
Inspired by real characters and described by the author as 'a true record of village life', it is a tragic tale of frustration and explosive passions in a household of women rulled by a tyrannical mother.
Edited with invaluable student notes - a must for students of Spanish drama
BIC:
DD Plays, playscripts, DSG Literary studies: plays & playwrights