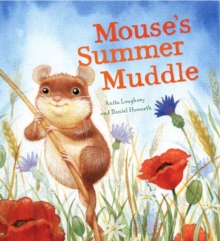 Mouse's summer muddle
1848358172 / 9781848358171
Usually dispatched within 2 weeks
26 cm [22] p. : chiefly col. ill.
Dash through the woods with Mouse and discover a dazzling summer.
The woods are bursting with colour and the sun is shining.
Butterflies chase each other in the breeze and something mysterious is sparkling in the pond!
With a little help from her friends, can Mouse find out what it is?
Animal Seasons is a beautifully presented series of picture books, designed to entertain as well as to inform young readers about the essence of each of the four seasons.
Suitable for reading together as well as reading alone, these books are not only highly enjoyable picture books but also a learning tool for literacy and the natural world.
The Animal Seasons series includes: Rabbit's Spring Adventure: Hardback 9781848358164, Paperback 9781848358768 Mouse's Summer Muddle: Hardback 9781848358171, Paperback 9781848358775 Squirrel's Autumn Search: Hardback 9781848358188, Paperback 9781848358782 Owl's Winter Rescue: Hardback 9781848358157, Paperback 9781848358751
BIC:
* Variable discounts between 0% and 15% are applied to items where BBfS cannot determine exact discounts from suppliers.