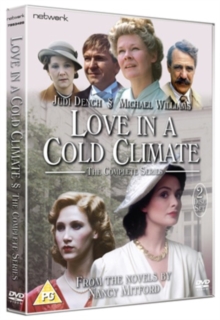 Love in a Cold Climate: The Complete Series
All eight episodes of the TV adaptation of the novel series tracing the lives of the wealthy Alconleigh family.
Starring Judi Dench, Michael Aldridge and Diana Fairfax and based partially on the real life experiences of novelist Nancy Mitford, the series casts a penetrating eye towards the lifestyle of the English upper class in the years between World War I and II.
The Alconleighs are headed by the eccentric Uncle Matthew (Michael Aldridge) and his wife Aunt Sadie (Judi Dench).
Their three children, Linda (Lucy Gutteridge), Louisa (Selena Carey-Jones) and Jassy (Yolande Palfrey), try to escape their parents' influence and find love amidst the tumult of inter-war Britain and a changing role for women and the upper class.
Episodes are: 'Child Hunt', 'Coming Out', 'Rings and Things', 'The Merry Widower', 'Heir Apparent', 'Foreigners Are Friends', 'Monsieur Le Duc' and 'In Love and War'.