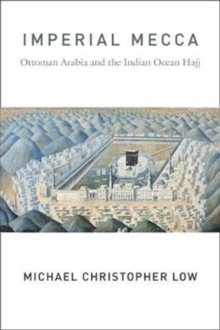 Imperial Mecca : Ottoman Arabia and the Indian Ocean Hajj
0231190778 / 9780231190770
With the advent of the steamship, repeated outbreaks of cholera marked oceanic pilgrimages to Mecca as a dangerous form of travel and a vehicle for the globalization of epidemic diseases.
European, especially British Indian, officials also feared that lengthy sojourns in Arabia might expose their Muslim subjects to radicalizing influences from anticolonial dissidents and pan-Islamic activists.
European colonial empires' newfound ability to set the terms of hajj travel not only affected the lives of millions of pilgrims but also dramatically challenged the Ottoman Empire, the world's only remaining Muslim imperial power. Michael Christopher Low analyzes the late Ottoman hajj and Hijaz region as transimperial spaces, reshaped by the competing forces of Istanbul's project of frontier modernization and the extraterritorial reach of British India's steamship empire in the Indian Ocean and Red Sea.
Imperial Mecca recasts Ottoman Arabia as a distant, unstable semiautonomous frontier that Istanbul struggled to modernize and defend against the onslaught of colonial steamship mobility.
As it turned out, steamships carried not just pilgrims, passports, and microbes, but the specter of legal imperialism and colonial intervention.
Over the course of roughly a half century from the 1850s through World War I, British India's fear of the hajj as a vector of anticolonial subversion gradually gave way to an increasingly sophisticated administrative, legal, and medical protectorate over the steamship hajj, threatening to eclipse the Ottoman state and Caliphate's prized legitimizing claim as protector of Islam's most holy places.
Drawing on a wide range of Ottoman and British archival sources, this book sheds new light on the transimperial and global histories traversed along the pilgrimage to Mecca.
BIC:
1QDT Ottoman Empire, 3JH c 1800 to c 1900, HBG General & world history, HBJF1 Middle Eastern history, HBLL Modern history to 20th century: c 1700 to c 1900, HRAX History of religion, HRH Islam, HRHC Islamic worship, rites & ceremonies