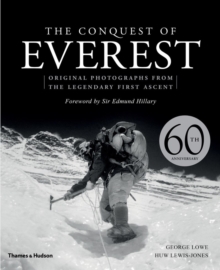 The conquest of Everest : original photographs from the legendary first ascent
0500544239 / 9780500544235
240 pages : illustrations (black and white, and colour)
29 May 2013 is the sixtieth anniversary of the first ascent of Mount Everest.
The allure of Everest remains undimmed, and the publication of this unique book celebrates this most majestic of mountains, with exclusive access to the photographic imagery and private archives of celebrated climber and photographer George Lowe, the last surviving member of that triumphant expedition.
Not only the anniversary of the first ascent, 2013 sees other significant Everest anniversaries: 50 years since the first American ascent; 35 years since the first ascent without supplementary oxygen; and 25 years since the first ascent by a route up the South Buttress on the eastern Kangshung Face.
An outstanding team of mountaineers and distinguished contributors associated with Everest provide their reflections and tributes, helping to create a remarkable visual and personal testimony to this historic event and to a mountain like no other.
BIC: