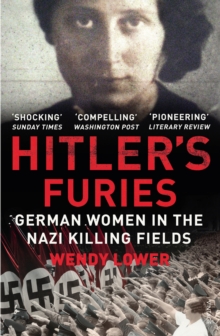 Hitler's furies : German women in the Nazi killing fields
0099572281 / 9780099572282
20 cm xi, 270 pages : illustrations (black and white), map (black and white)
General (US: Trade) Learn More
Professional & Vocational
Tertiary Education (US: College)
Reprint. Originally published: London: Chatto & Windus, 2013.
A shocking and timely reminder of the role Nazi women played in the Holocaust, not only as plunderers and direct witnesses, but on the Eastern Front. History has it that the role of women in Nazi Germany was to be the perfect Hausfrau and a loyal cheerleader for the Fuhrer.
However, Lower's research reveals an altogether more sinister truth. Lower shows us the ordinary women who became perpetrators of genocide.
Drawing on decades of research, she uncovers a truth that has been in the shadows - that women too were brutal killers and that, in ignoring women's culpability, we have ignored the reality of the Holocaust. 'Shocking' Sunday Times'Compelling' Washington Post'Pioneering' Literary Review
BIC:
1D Europe, 3JJH c 1939 to c 1945 (including WW2), HBLW 20th century history: c 1900 to c 2000, HBTZ1 The Holocaust, JFSJ1 Gender studies: women, JFSR1 Jewish studies